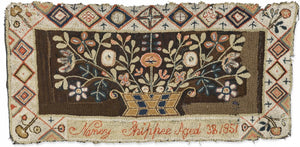 This is a photo of the original rug dated 1851.
A floral basket of primitive, light colored flowers, on a dark brown background, framed by a light border of geometric diamonds. Flowers sprout at the four corners and at the bottom of the border it is signed Nancy Shippee Aged 38 1851.
Photo: James D. Julia Inc.