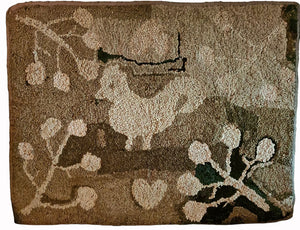 This is a photo of the original rug, hooked in the late 1800's.
I saw this rug at an auction, several years ago and was surprised to see it again, for sale on Ebay. A cream and tan, primitive rooster is surrounded by branches with large berries and two hearts. The background is a mixture of several shades of browns and greys, from light to dark values.
If you like more color you could hook the hearts, cockscomb and the berries in faded reds. You could also hook the background in a color. This would be easy to hook! The larger size would be great for wide cut, primitive lovers!