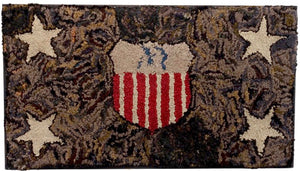 This is photo of the original rug, hooked circa 1900.
A primitively hooked, patriotic shield and stars on an amazing background. The shields and stars are outlined in a solid black that sets the stars and shield apart amidst the busy background. I love the golden color in the background! The shield looks like it has a M on it but that is not included in the pattern. 
Please call before ordering if you would like me to add a letter, a star, or three stars, for you in its place.