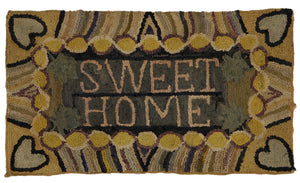 This is a photo of the original rug, hooked circa 1900.
This is a motto rug with the saying "Sweet Home." The letters are 4-5 inches tall, so easy to hook. 
The wording, in the center, is on a medium green background with some darker green and golden green patches and if you look closely you can see maple leaves in each corner. They are so close in value they blend in. You might chose to not hook them. The inner border is chain like, hooked with a dull plum and cream color, filled with a dull gold. Purple and gold are complements on the color wheel. The outside border has a heart in each corner, in the same dull gold, with slightly diagonal lines to fill between. I added a thin outline border, to hook to, for a stop line. You could chose to hook to the edge and hide your tails. This is a timeless design.
Photo: Textile Museum of Canada; From the Opekar/Webster Collection