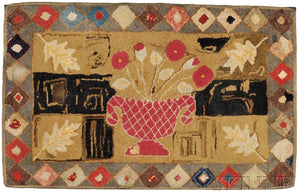 This is a photo of the original rug hooked circa late 1800's. 
A large red urn holds simple, primitive flowers and buds with large oak leaves in each corner. The background is a golden tan with black rectangles and brown lines. The border is made of colored diamonds and dirty gray triangles. This pattern has guidelines in the background, if you want to replicate this rug. I offer it without the background lines, if you have your own vision for the background.
Please call before ordering, if you want the background lines left out. 
Simple and primitive!